3X
ROI
Our Mission is to bring a minimum three times return on investment to every single partner, by any means necessary.
And we just so happen to have fun doing it. Are YOU ready to learn more about working at Drive Social Media?
Search Careers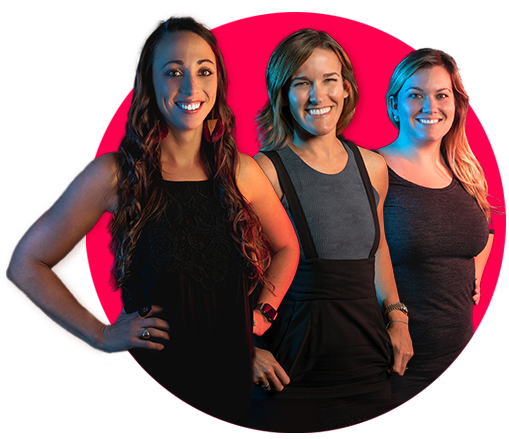 INCLUSIon& EQUALITY
Our commitment to equality and inclusion is not just nominal. COO Stephanie Jenkins and the many other women who have claimed leadership roles have shaped Drive into what it is: not an echo chamber, but a space where everyone is heard — and where it's not the loudest voice, but the best idea that wins.
Search Careers
A DAY IN THE LIFE
Curious about the day-to-day at Drive? Take a peek into each role below – one might be just right for you.
At Drive Social Media, our Business Development team is at the forefront of our mission. Our Business Developers tirelessly prospect and engage potential clients through strategic cold calling, presenting them with a clear vision of how Drive's services can deliver a scalable, measurable return on their digital marketing investments. Join us in driving the future of digital marketing.
View Open Positions
locations & expansion
locations & expansion
locations & expansion
locations & expansion
locations & expansion
locations & expansion
locations & expansion
locations & expansion
locations & expansion
st.louis
nashville
miami
atlanta
tampa
dallas
st.louis
nashville
miami
atlanta
tampa
dallas
PROMOTIONS & RAISES
We're growing fast. From 41 employees in 2016 to over 200 in 2022, and from one office in St. Louis to six across the US. What does this mean for our employees? New frontiers and positions are opening up daily. High-achieving Drive employees can expect their success to be recognized and rewarded with leadership roles, both in established and burgeoning offices. Moreover, every employee at Drive has the opportunity to bonus each quarter based on the retention of clients. The theme here should be clear: if you do good work at Drive, you will reap the rewards.
BENEFITS
$2.2M IN COMMISSIONS & BONUSES IN 2021

Get out what you put in— salary, quarterly bonuses, commissions, fast promotion. We know why you come to work.

Health Coverage

Within your first 90 days at Drive, we'll help get you covered (get it?) with health, dental, and vision benefits!

100% Premiums Covered

We know you give 100% (Monday thru Friday, at least) so we pay 100% of your premiums for Short Term Disability, Long Term Disability, and Life Insurance.

401k up to a 4% match

We've already picked your 1st Anniversary Gift: 401k, with up to a 4% match. It's a little better than "paper."
PERKS
Workshop Week

All your cool friends from every Drive location make their yearly migration to St. Louis office for a week of education, team building (not the trust-fall BS), & of course, partying. It's our Drive Family Reunion!

RELOCATION PROGRAM

Need a change of scenery? We've got a program for that: employees in any city have the ability to relocate to alternate Drive markets.

CONTINUING EDUCATION

Once a week, enjoy face time with CEO, Josh Sample, for education and mentoring on all the tips and protocols we love (and sometimes forget).

AGILE & Fast-paced

When we say "Drive," we don't mean 35mph. We've created a nimble business model to provide our clients and employees with the most seamless, efficient experience out there.

SPEAKEASY & BEER FRIDGE

Every Drive office features a swanky addition or opportunity to play and connect with your fellow badasses. Whether it's Pop-a-shot in Miami, Broadway Happy Hours in Nashville or our own office Gatsby-style Speakeasy in STL, we encourage gestures that serve as a reminder life isn't all work and no play.
Search Careers
WE'RE NOT BRAGGING OR ANYTHING…
Total number of terminations to offset company losses due to Corona Virus:
The people with us at Drive is literally one of my favorite things about our partnership!

PatrickRobertson

General Sales Manager Hyundai of Columbia, TN
The ROI of working with Drive is obviously gained revenue, but its not just about that. It's for the future.

JustinBradford

Director of Digital Marketing – Nashville Symphony
From our photographer to our graphic designer, all the way down to the copywriter, our ads look on brand.

MarkCohen

D1 Training